Visiting France was a must during our younger days; the big OE had to include this romantic country and the proximity to London made it an easy commute, which back then, was by Hovercraft then Train to the city of Paris!  Maybe I was young and naïve but Paris was not the wonder I thought it would be.  Yes the Louvre, the Eifel and the Arc de Triomphe were all stunning, the architecture striking and the River Seine the glue that held that beautiful city together.  But it was busy and it was fast; I had thought the people of France indulged in slow living, which is something that I was especially interested in.  Fast forward twenty something years and slow living is not only an interest to me, its a necessity.
The city of Lyon in comparison creates a very different impression;  it embodies that French art of living that is happily shared with visitors; the food, the wine and the culture create the illusive art of slow living.
This stunning apartment in the Ainay District is light and airy and full of that elegant style and period features that could only be relaxed by the French joie de vivre.  I am experiencing serious window envy and those herringbone floors are divine, enjoy the tour!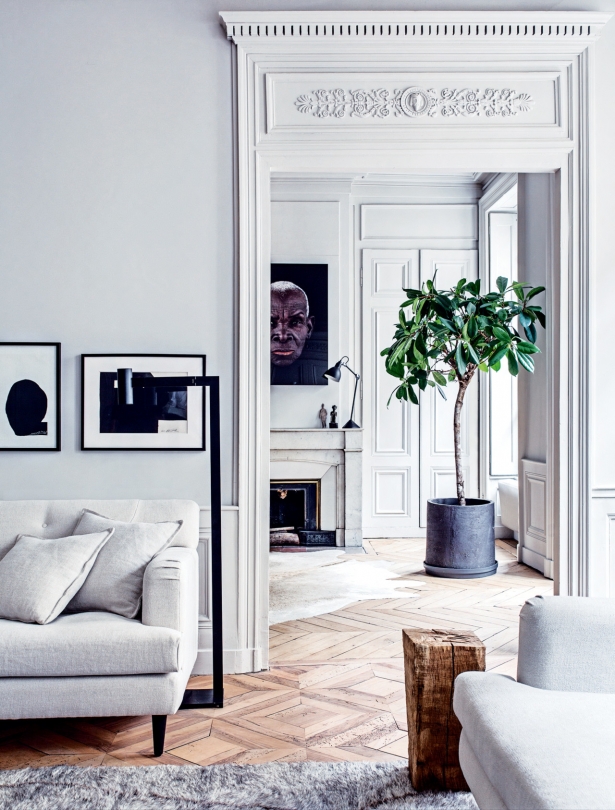 Neutral colour palette allows the floors to be busy in pattern and allows the detail in the architraves to be appreciated.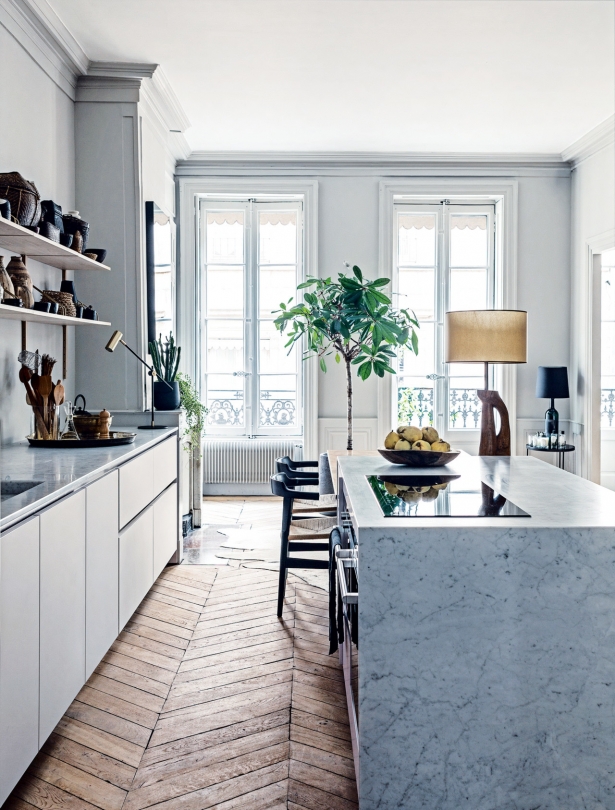 Glorious light filled kitchen through the floor to ceiling windows.  Add in the cowhide and the greenery for an organic indie feel.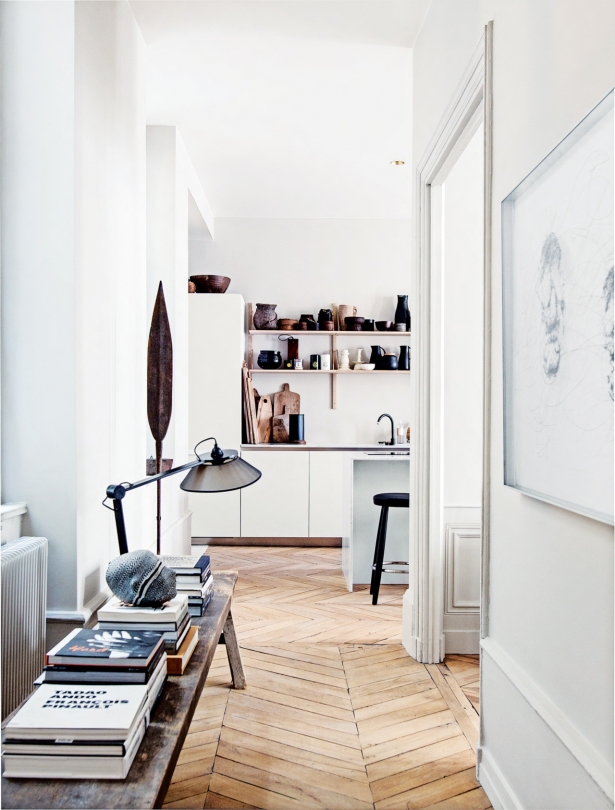 A little addition of antiques; this bench seat makes an interesting feature book storage area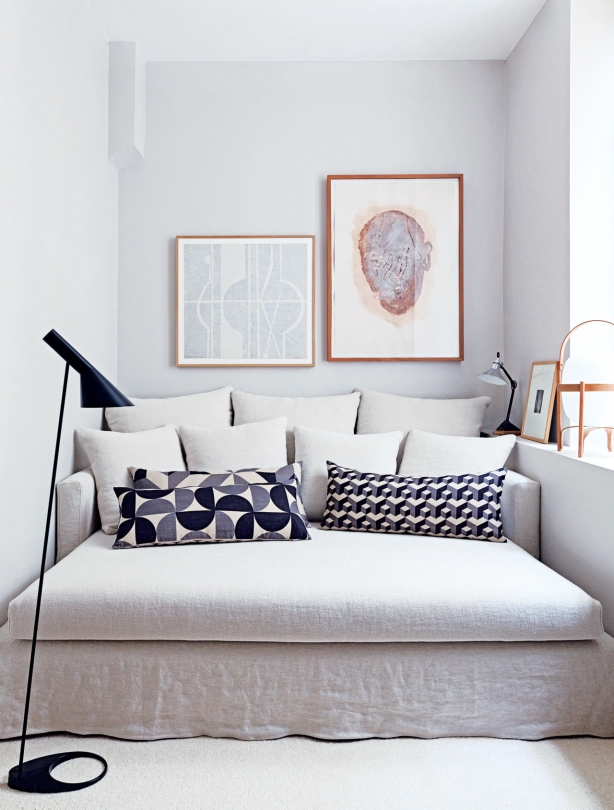 Pattern rather than colour accepts the art rather than competing with it.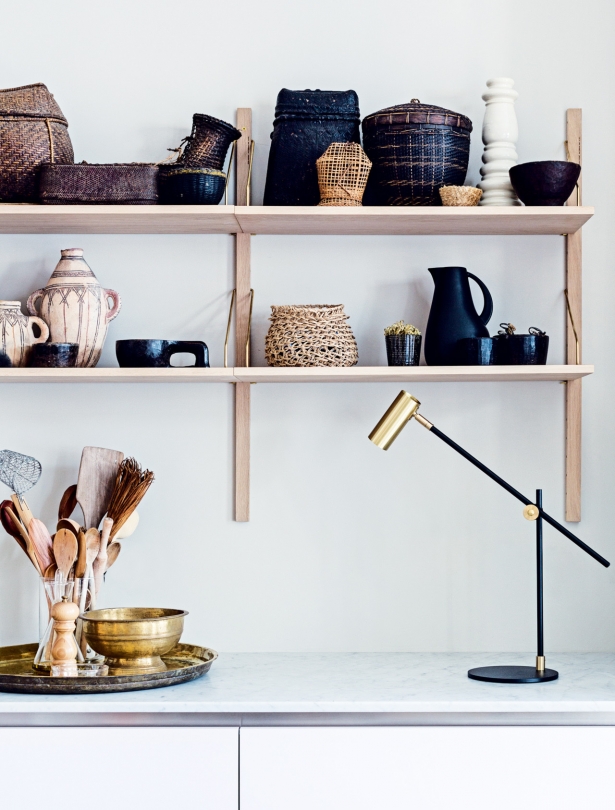 Open kitchen shelving relaxes the space and provides visual interest through textural objects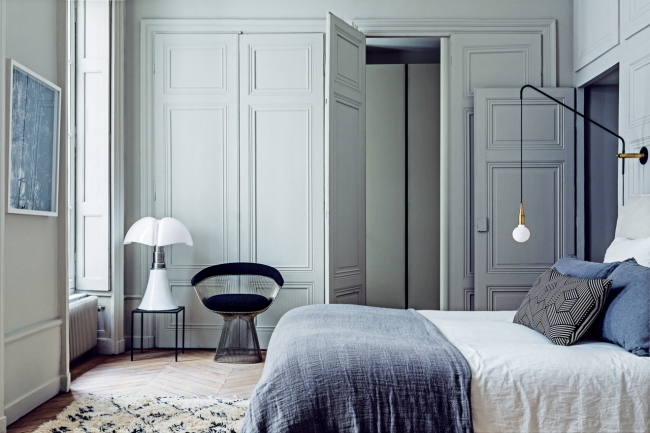 Classic Ben Ourain Rug alongside linen bedding softens the bedrooms high ceiling.  Being a lover of chairs I can't not mention this 1966 Platner Lounge Chair.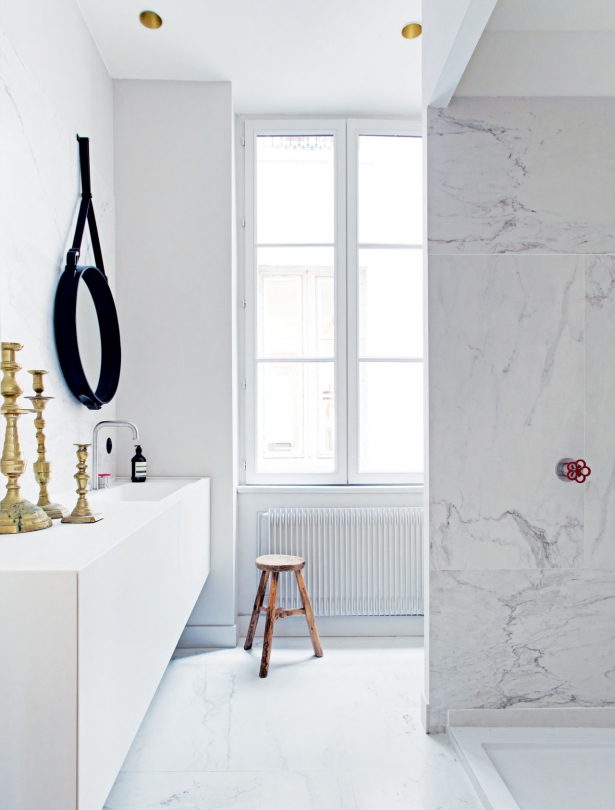 A simple palette using the lux of marble combined with the organic element of the wooden stool and strap mirror with the unexpected bling of brass.
Photography by Felix Forest via Vogue Living.  Interior Design by owners Pierre Emmanuel Martin and Stéphane Garotin,