DARK FEATURE WALLS
At my little house I have two dark feature walls, one in the master bedroom, that divides the bed and dressing room, and one dividing the kitchen and dining (its actually hiding very important pipes from upstairs and a just as important wine rack inside it).
They are the same colour, was that because we had left-over paint?  Um, yes.  At first the kitchen wall was in blackboard paint but I decided pretty quickly that that look is really not for me and so after the bedroom wall got its moody look the blackboard paint got a once (maybe thrice) over and is now a very sophisticated dark grey.  Both these walls are particularly good as features as neither of them meets another wall and therefore have the ability to wrap the colour around them.
Can you paint a small room in a dark colour?  
The answer is yes.  While white reflects the light thus giving a larger airy space dark hues absorb the light, this however doesn't necessarily mean that your room will feel smaller as a dark colour blurs the edges thus creating a room that has no defined lines.  A feature wall however can sometimes give the illusion of being closer to you.
Can dark walls look foreboding?
Dark colours give a luxurious vibe.  A black wall with an ornate mirror or a chandelier will give an opulent yet comfortable feeling, however if you pair your dark wall with dark furniture it is likely that the room may feel a little gloomy!
What accessories work with dark colours?
Pair dark colours with rich wood grain and lots of texture.
Is painting a room dark harder than light?
Yes.  You will need to prep your surfaces well as darker colours are less forgiving when the light hits them, then up to 4 coats may be required to give a good finish.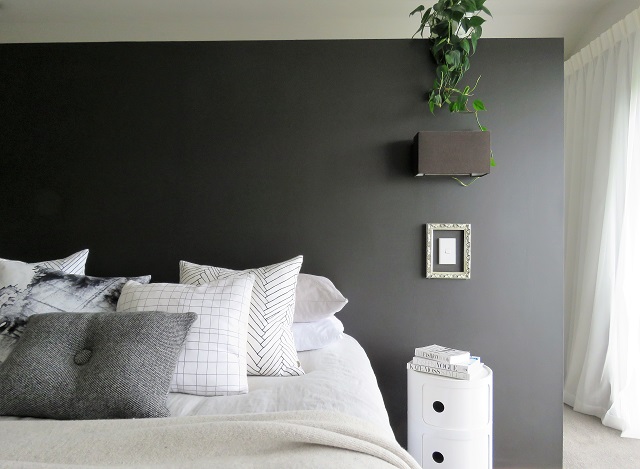 Paint colour is Resene Bokara Grey
Photography and Styling by My Little House.  Interior Design by Crush.