MY LITTLE MONOCHROME CHRISTMAS
Despite the fact I have no littlies in the house I still feel the need to count down the sleeps to Christmas.  I'm not sure why that is, perhaps habit.  Advent calenders with a daily chocolate were such a treat as a child, but with two sisters it always seem an age to get to my turn!
When my son was little we had all sorts of different ways of counting down, from the more commercial style of advent, to a home sewn pocket wall wall hanging, to using a blackboard (when he was learning to write his numbers), to vintage number signs on an art easel and a corresponding bowl of treats.  One year (when he was learning to read) there was a treasure hunt; he would have to take the number from a hook and on the back was instructions of where to find the 'treat'.  December for our little family was as exciting as Christmas Day itself!
This year I'm taking it easy on the decorating.  Though we have a large group here on Christmas Day, including family from Pauanui, Dunedin and England, I was adamant I didn't want a tree so I've had to dream up a new spot for the gifts to gather. To be honest I haven't even been up into the attic to pull out the decorations, so I'm using bits I've found on hand alongside a few new finds.
The advent this year is pretty easy using my Urban Infinity Calender.  I will take you on a little journey through Instagram, probably not daily as I still have to fit my scheduled posts into the week, otherwise there would be no blog!  Just in case your not Instagram savvy here's a little sneak peak.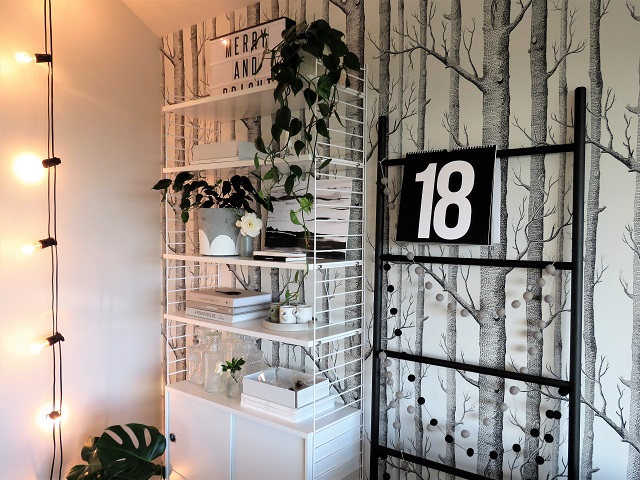 The Woods wallpaper makes a sweet little back drop for the ladder-tree.  I've used a lightbox, white roses from my garden and some vintage glass spirit decanters; I aim to fill these with brandy, spiced rum and Baileys, but not just yet, I dont want to indulge quite so soon in December!  The string lights finish the space to create a light Christmas vignette.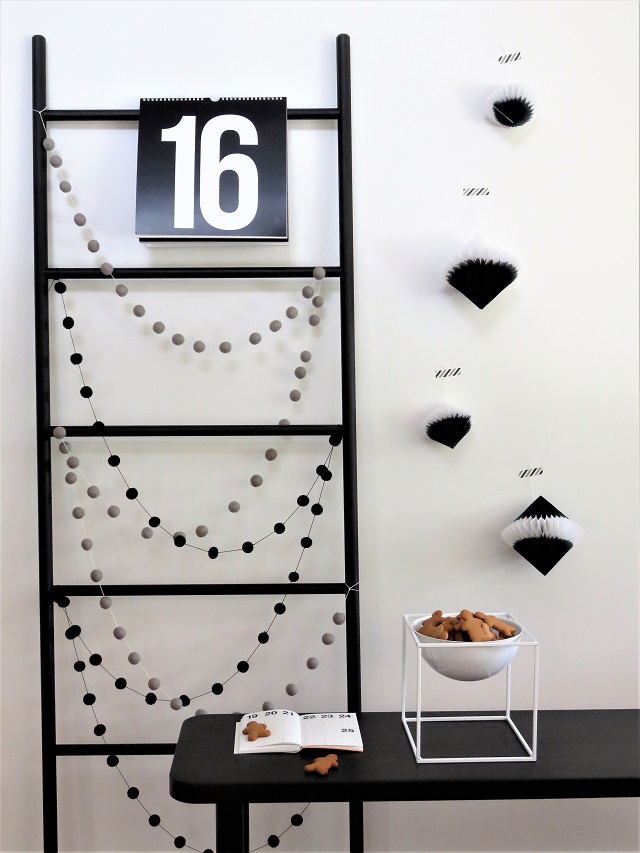 I always make Gingerbread Cookies at Christmas, its a my little house tradition.  This white metal planter was a lucky find at Spotlight and every year for the last four I've indulged in a Marjolenin Delhass Diary from the Netherlands.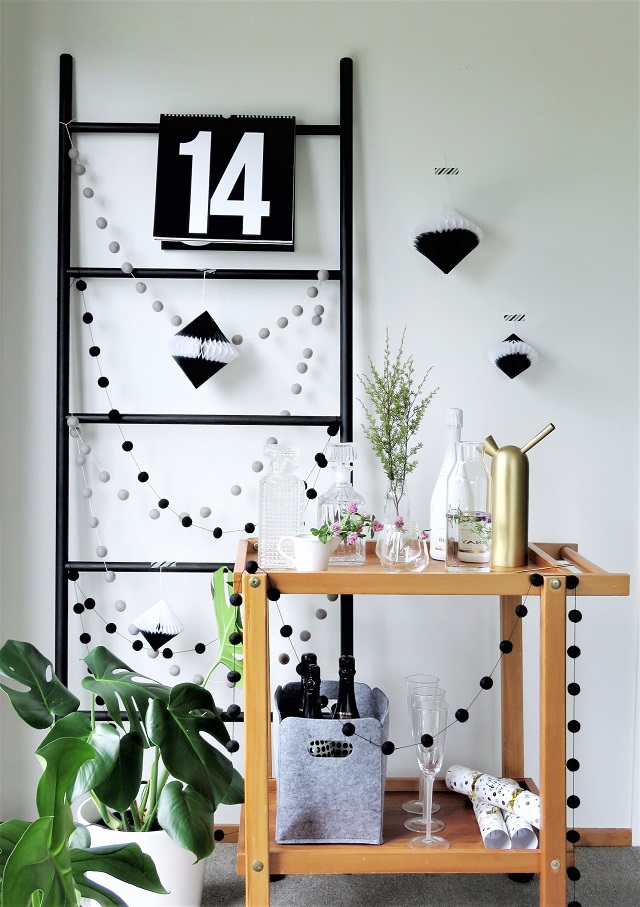 My bar-cart has been given a new lease of life with some Christmas necessities. I am a little obsessed with using all the gorgeous wild flowers growing on the road sides at the moment, and in fact (lightbulb moment) that will be the theme of my Christmas table this year.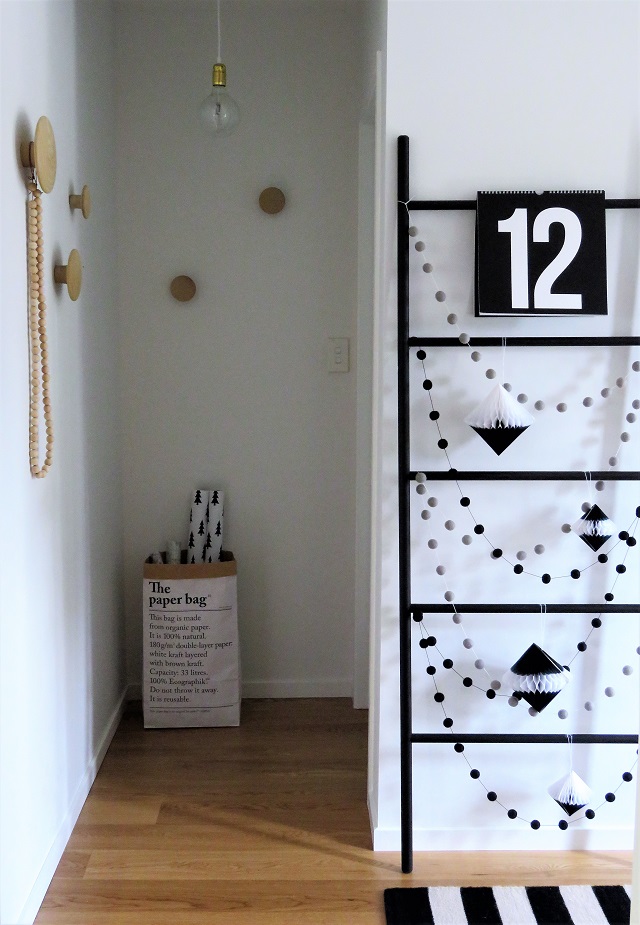 The best thing about my ladder tree is that I can move it around without any fuss and bother.  I found this monochromatic wrap in Shut the Front Door with little trees that replicate one of my favourite cushions from Fine Little Day.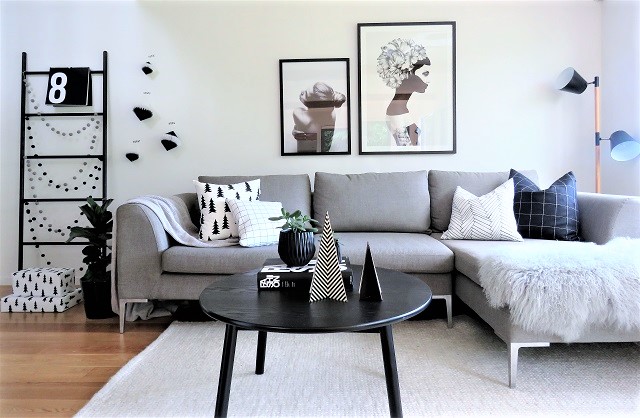 The little plywood trees on the Coffee table came from Kmart and a Fiddle Leaf Fig gives a little green in front of my ladder-tree.  The grey and white garlands are felt balls from Etsy.  I have some colourful ones buried in my studio which I'm not keen on finding, so this year its all about monochrome.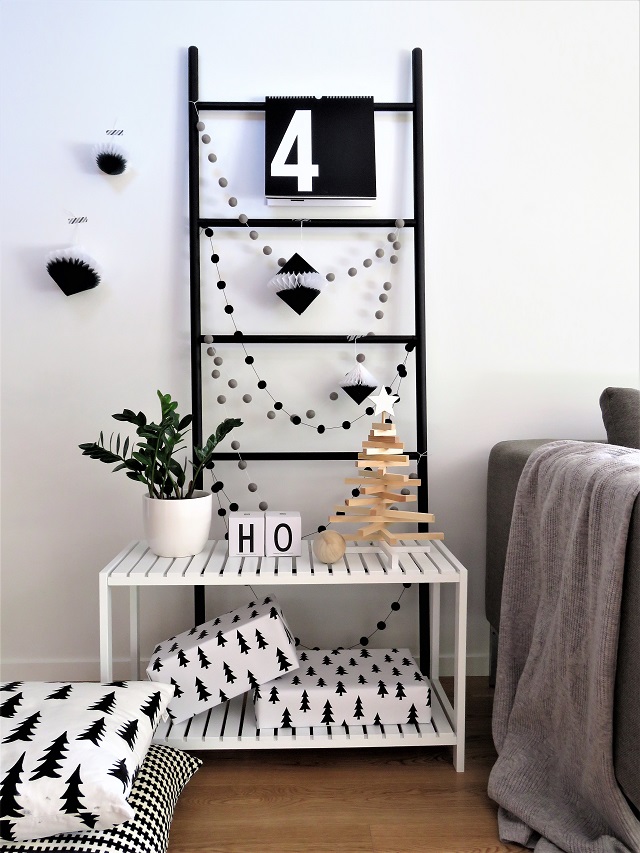 And here it will rest until the 'big day'.  The Jimmy Stand from Mocka gives a platform for a lttle stick tree, another cheap little find at Kmart and the boxes from my Design Letter Cups give a quirky HO! I found the wee paper decorations in one of my desk drawers left over from a job, I stuck them to the wall and ladder with a little washi tape.  Some seed lights would finish it off nicely but I haven't quite got there, there is still 18 sleeps to go you know!
And so thats' me and my monochrome Christmas for 2016 showing you how to be festive without being too, well festive!  You can see some of my previous Christmas' here.
Don't forget to leave a little gift under the Kmart Wishing Tree while you are there!
Photography and Styling by My Little House