STICKY DATE PUD
Sometimes I share recipes, not often as I'm no great chef and I do tend to stick to meals that I know work and that everyone likes.
Searching for an easy dessert to serve last week took me through my cookbook shelf, most of them required a trip to buy chocolate or other such things that I try not to keep in the cupboards (I'm not good with resisting temptations) and living semi-rural means a trip to the local store is an effort.
This recipe had been torn out of somewhere and tucked into my book of recipes collected over the last 30 or so years.  I can't remember ever making it, even though Sticky Date Pud is one of my all time faves.
I'm sharing it with you as not only was it super-easy and cupboard-ingredient-friendly it was also incredibly delicious!
Pudding
180 g Pitted Dates – chopped
1 Tsp Bicarb Soda
1 C Water
50 g Butter
150 g Soft Brown Sugar *use coconut sugar for a healthier option
2 Eggs
180 g Self Raising Flour
Put the chopped Dates, Water and Bicarb Soda into a saucepan and bring to boil, then leave to stand.  Mash up the dates with a potato masher.
Cream Butter and Sugar in your mixer, then add eggs one at a time.  Fold in the Sifted Flour.
Pour in the date mixture and mix together.
You can bake as a cake or in large muffin cases (I prefer this as the excess ones can be frozen for another time).
Bake at 160 c fan forced low in the oven for about 30 min.  If the top tends to be cooking too quickly place a piece of baking paper loosely over it for the second half.
Cool on a wire rack.
Toffee Sauce
150 g Soft Brown Sugar *use coconut sugar for a healthier option
250 ml cream
1/2 Tsp Vanilla Essence
1 Tbsp Butter
Combine all in a saucepan and bring to the boil stirring, then simmer for about 5 minutes, leave to stand to thicken.  You can make this earlier and just reheat when ready or serve cold for a thicker and stronger toffee flavour.
Serve with thickened cream or a vanilla bean ice cream of your choice and garnish with edible flowers – pictured with Rosemary.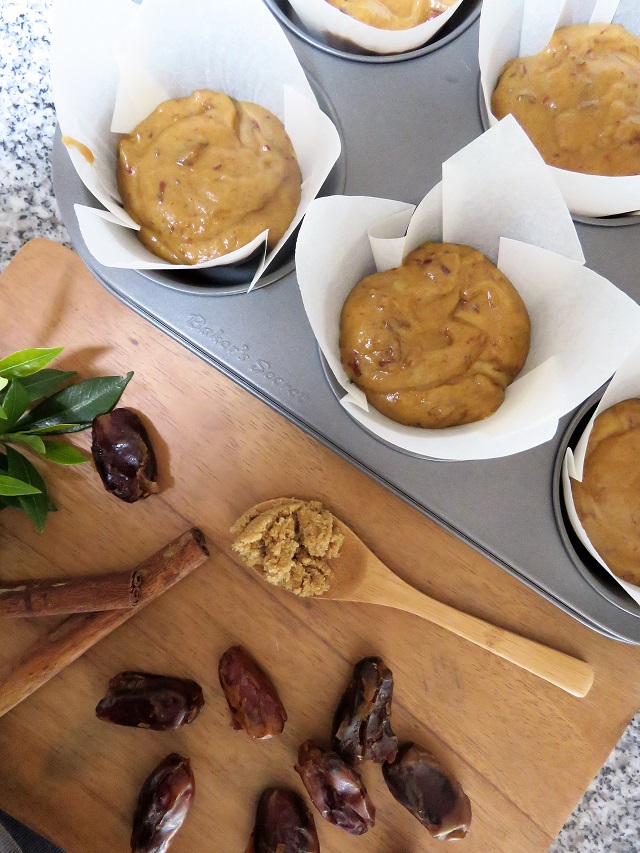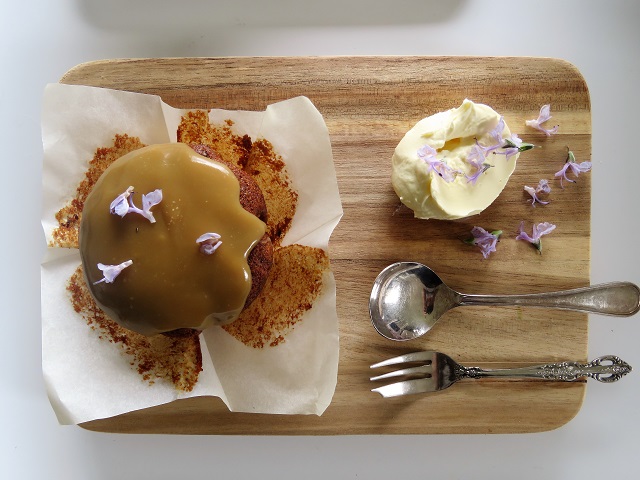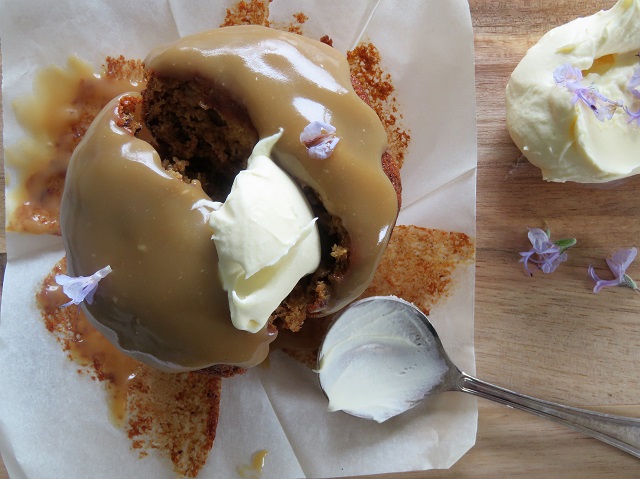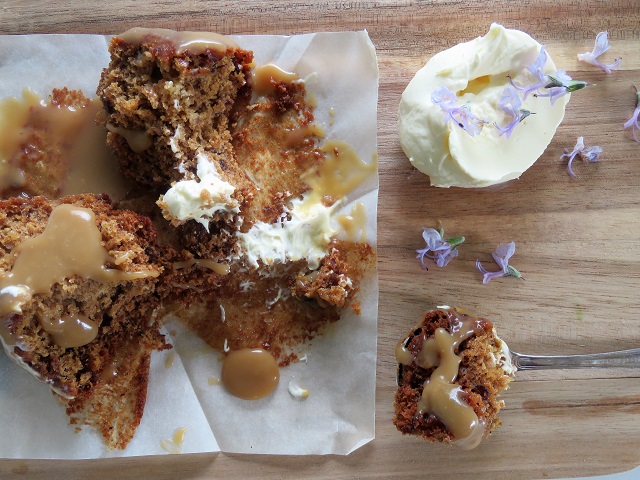 Photography, Styling and baking by My Little House.