STYLING 101 | THE BEDROOM
When my little house was photographed for Homestyle Mag the photo that seemed to dominate Social Media was our Guest Bedroom, formally our master bedroom.  It surprised me somewhat as the room had been styled by me, expecting that cropped shots would be taken, not for the doorway shot that ended up being in print.  You see to me the room is too busy; there are wall lights – that I would prefer were not there, an exposed beam runs centrally in the room with a pitch ceiling on one side, someone in their wisdom has added an alarm box and there is textured wallpaper that actually hides very badly plastered walls.  On top of all of that there is a multitude of vignettes that were not meant to be seen all together; thankfully the grey on white palette helps to minimize all this excess.
To me a bedroom should be minimal.  It should be a sanctuary, a tranquil retreat to negate the days stresses.  So when designing my new Master Suite in an extension a few years back that is what I focused on.  I wanted minimal furniture so that meant a dressing room, I wanted an ensuite that was not visible from the bed and mostly I wanted large windows to maximise the water and bush views, with soft and floaty voiles framing them.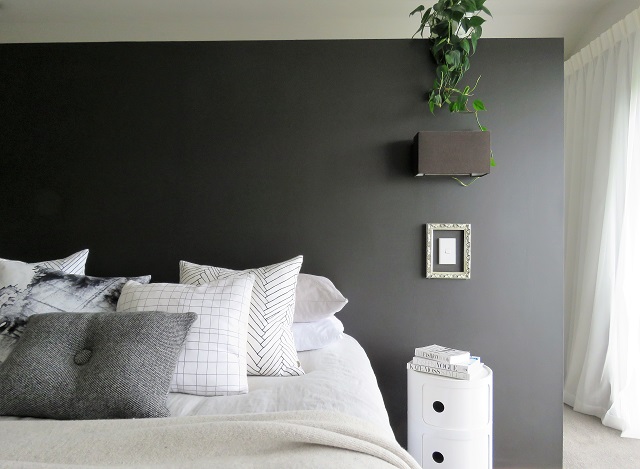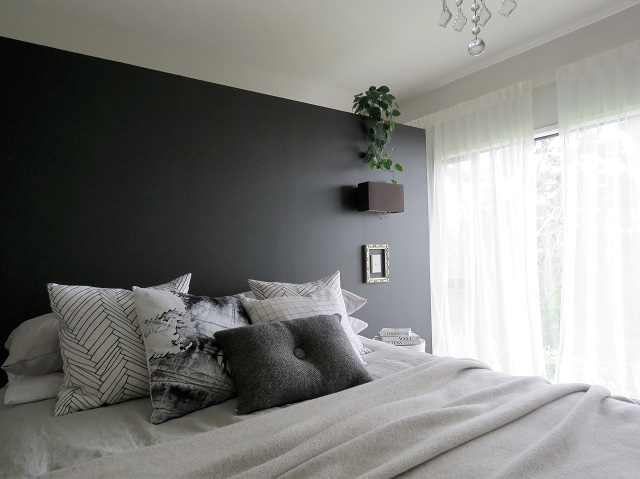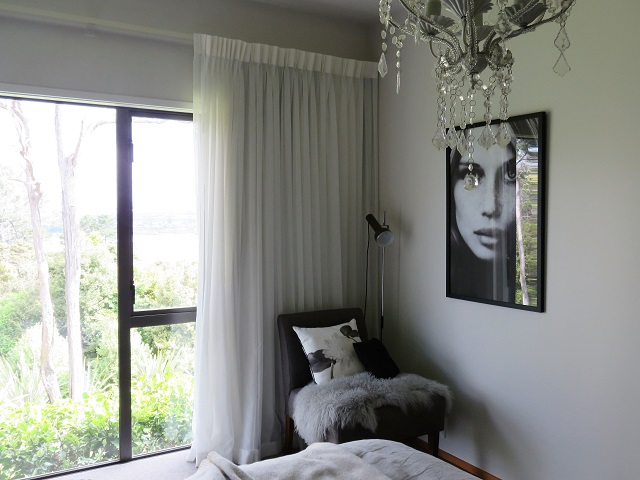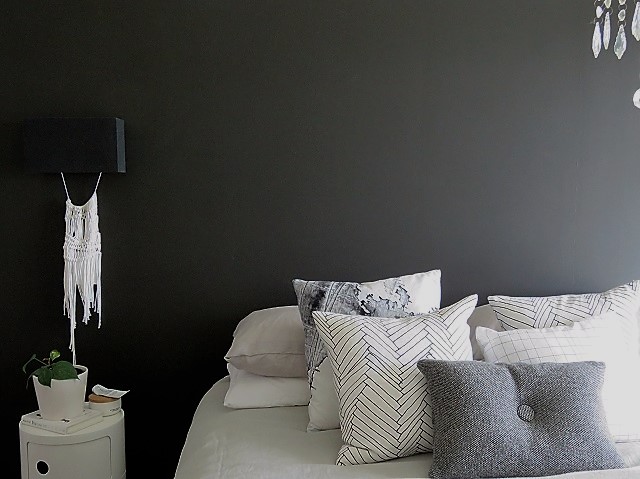 Bedside Tables I'm quite sure we would all love a simple table with a beautiful lamp and perhaps a good book, candle and clock or jar of delicate foliage, but in reality we have stuff and we need to store it so choose something with at least one drawer.  I like to see under bedside tables as it gives a lighter feeling to the space, this is not always possible so choose something that you find aesthetically appealing but that is minimal in weight.  These Componibili are great for now but I am ever on the search for the perfect bedside.
Wardrobes Don't skimp here, paying to have a professionally made and fitted system will help you in ways you can not imagine.  Rather than a closed in room we opted for a 3/4 wall both in height and width accessed by both sides of the bed.  It works to frame the bed and gives air flow for our clothing and natural light for dressing.  The other bedrooms in my home also have walk in robes with drawers and hanging configurations to negate the need for extra furniture.
Rugs With the layout of my Master Room I don't have a rug.  If you are choosing one for your room make sure its the right size.  See here for the best configurations.
Lighting The current trend is central lighting combined with hanging bedsides.  I'm not a great fan of this, I prefer a lovely bedside lamp or wall light.  Sadly finding beautiful wall lights is not an easy task! When you have wall lights either side resist the urge to hang anything in the middle of them, it upsets the balance of the room.  Instead opt for a feature wall or beautiful headboard as your focus.  If you have wall lights that are simple go glam for your central lighting, a sexy chandelier will add opulence and drama.
Bed  There are so many options for bedding out there; I prefer Linen, it is a natural fibre and it gives a beautiful casual comforting vibe.  Cushions are personal preference, the amount you choose to have depends on your ability and time for styling them every morning.  Sometimes I love the simplicity of stacked pillows with one central rectangle cushion, other times I love the layered and orderly quality of four cushions stacked in front of your pillows, other times the messy un-ordered pile of cushions looks just right, remember its all about your style and your lifestyle.  Don't be tempted to follow a trend that really isn't what you feel comfortable with.  A throw on your bed will break up a plain duvet whereas a patterned duvet should be left without.  Read about linen bedding here.
Walls  Keep your walls simple, use art that makes you feel calm and happy but make sure it is the right size for the space, nothing is worse than art that is out of scale.  I don't recommend a TV in this space though I have one!  My husbands one request, it sits flat on the wall and isn't noticeable unless you are lying in bed.
Don't be disheartened if your space isn't equivalent to those dominating Social Media.  Those spaces are styled for the photos, they show only one angle of the room and they have access to an abundance of products to enhance them.  Make your space about you.
Next up The Entrance and Hallways
Photography and Styling by My Little House