Well I am not trying to encourage you to jump the fence but green is pretty cool right?!  I can remember my Grandmother, (who was pretty stylish I have to say), touting "blue and green must not be seen" she never quite finished that statement, as it ends with "unless there's something in between".  So can you mix blue and green up in your interior?  Hell yes!
Let me show you how…
I swear I never tire of looking at this image.  From the axminster style sofa. to the makeshift art wall behind it, to the collection of foliage aside it blending perfectly with the white background palette I am intrigued!  The collection of images invoke my curiosity enough to take a zoom in! 
This use of blue and green cushions look relaxed amongst the grey background, the colourful lamp and zesty table inject a little fun into the soothing palette.  The use of the round mirror teamed with the round tables, cushion and bottles provides a visual contrast to the sharp zigzag of the lamp.  Love it!
Beautiful vintage green tiling on a kitchen splashback.  Note the accents of blue in the glass dishes on the bench top and the foliage.
A vintage styled workspace in a gorgeous sage green.  The palm fronds add a touch of the tropics and the green in the glass of the vessels is highlighted.  This shade invokes  feelings of calm and is perfect in a Vintage or French inspired home.
Who didn't love this wall decal/paper off the Block NZ?  Such a calm room with a funky and modern edge.  If you are following trends you might like to know that geometrics are heading out and jungle is heading in!  Jo has cleverly combined both in this room.
If all else fails incorporate plants.  I wrote a blog; the next big thing last year letting you know of their comeback and I think you'll agree they are HERE!  Remember that plants clean the air and oxygenate your home so not only do they look cool they are good for you too!
If you cant go the full hog some subtle green accessories may be all that you need to provide a calm wee nook in your home.  Green glass is beautiful and captures the light perfectly.  I love it displayed on wood.
A green wall is a fabulous visual point in a home as it provides colour and texture.  If you cant afford the real thing how about a makeshift one.  This lovely leaf display is a perfect art form, and allows easy change… they look gorgeous in Autumnal colours too!
I usually relate green to fresh and calm feelings however this moody green space is equally lovely!
This row of green chairs is a fantastic.  Painted harlequin chairs have been done again and again inspired by the Friends TV show back in the 90s, but I love that in this case they have used different shades of the one colour.
I am currently coveting a few green items for my little house,  this Paradise Print from Blacklist is perfect for my entry to link with my outdoor palms, the Acme cup is a great vintage addition and the Monster Deliciosa Plant is one of my favourites for vase cuttings.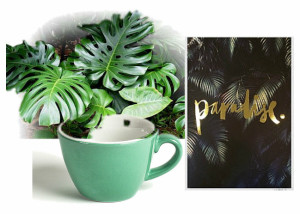 What about you?  Tempted?
PS; If green is your favourite colour you are said to be full of life and love, you enjoy outdoor adventures and seek company which you attract due to your optimism and sincerity.  Sounds pretty good to me!