A wee bit of wood-love on the blog today… it adds a touch of warmth to a cool interior and by using wood in accessories you avoid the heavy look that larger pieces of furniture bring.
In my little house I have wooden beams that criss-cross the ceilings and some days all I wish to do is paint them white while on others I enjoy the quirky un-perfectness they bring, so they stay and give me something to ponder on while enjoying a glass of vin!
One piece of advice I will give is the paler tones of wood such as oak bring a much lighter and cooler feeling to your home and works well with predominately white interiors whereas darker or more red NZ timbers work well with off-white and creamy warm walls.
Timber flooring is beautiful in a home no matter the tone and those homes I visit with it always make me feel warm and welcome.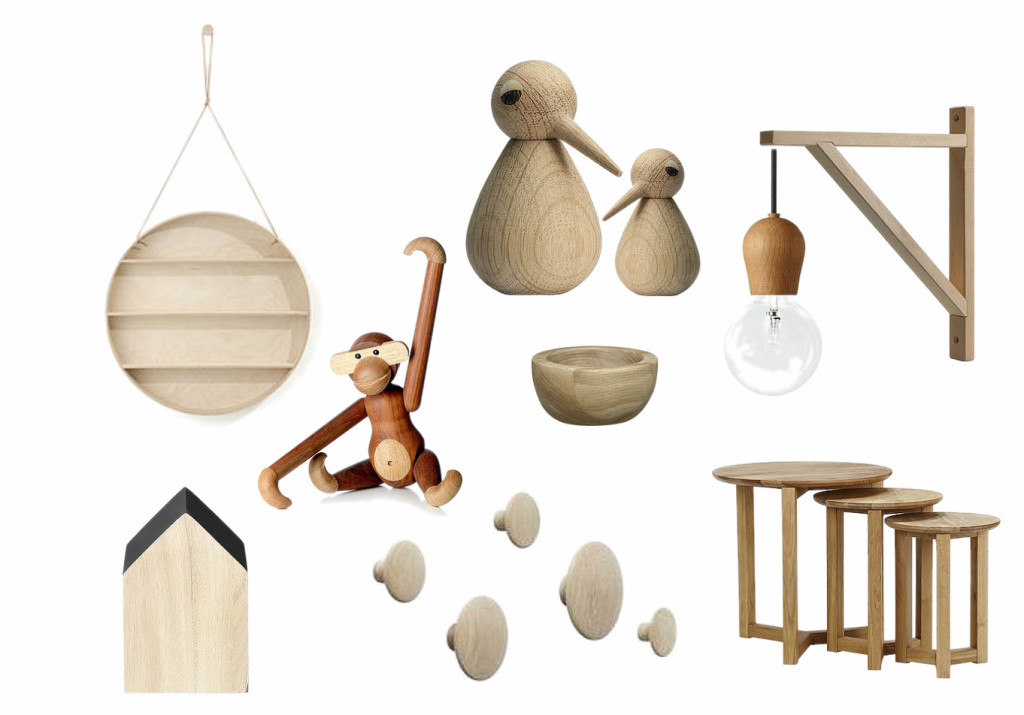 The Round Dorm Shelf from Ferm Living,  Rosendahl Monkey from Design55, Vedel birds from Let Liv,  Wooden Pendant Light from Green with Envy, a plug in variety is also available from Pony Lane, Ekby Bracket from Ikea (perfect for the pendant), Host Pinch Pot from Freedom Furniture, Wooden House from Let Liv, Muuto Dots from Bauhaus and Stockholm nested tables from Freedom Furniture
If you have any other lovely wooden finds to share leave me a message! x