COMFORT FOOD
There is always a recipe you relate to that feeling of comfort, of contentment and warmth.  A Hygge recipe.
This is mine.  I was given it by my Aunt so I don't know its exact origin, but it quickly became the recipe I pull out when someone is coming for lunch at short notice, or a casual dinner, I've handed it out to many friends and family, so I thought it was time I get it in print.
I use the lemons from our garden – which are so abundant they go from season to almost season, spinach is the most prolific vegetable in my potager gardens, and I do make my own chicken stock.  Its not, however mandatory, and for those of you who don't have the access to your own gardens, or enough time to make stock after your roast chicken, supermarket produce does the job just as well.
Salmon Risotto
900g Arborio Rice
1 Medium onion, finely chopped.
4 Tbsp Butter
1 Tbsp Olive Oil
1 Litre of Chicken Stock
Salt and Pepper
Juice and rind of 1 Large Lemon
1/2 Cup of Parmesan Cheese finely grated.
Spinach
Melt 3 Tbsp of the butter and the oil together, add the onion and gently cook (do not brown).  Add some stock and the rice.  Allow the butter to soak into the rice grains while stirring (and watching).  Add some stock.  Simmer gently (you need to keep an eye on it) keep adding stock over the cooking period, let each addition soak into the rice before you add more.  At this point you can add some salt, to taste and pepper.  When all the stock is gone and the rice is soft to taste, (you can add water if you run out of stock), add the last of the butter, the lemon juice and rind, season again if required.
Remove from the heat and stir in the Parmesan and a good helping of fresh spinach.
Serve in four individual bowls and top each with a piece of salmon.
So good!
Serve with a good dose of Hygge; beautiful table setting, good wine and good friends.  The ultimate comfort food for any season and anytime of day.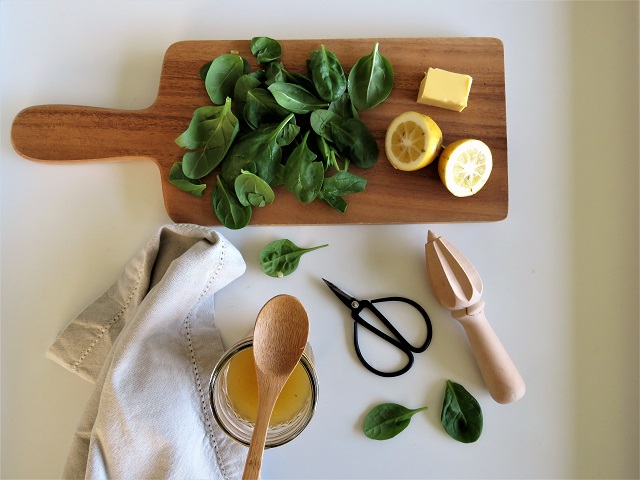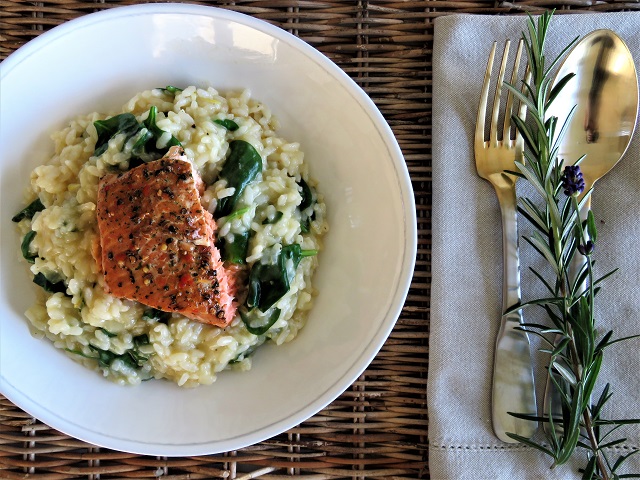 Photography, Styling and Cooking by My Little House