Where do you find everyone at a party or gathering?  In the kitchen!  Just why everyone gravitates to the one space that really isn't big enough is a mystery but its also a fact so making your kitchen gorgeous is not just a dream its a necessity.
Kitchens and bathrooms can suck up most of a homes budget so getting a really good designer is key, you need to get the layout right so that when you come to have to update the look again the expense can be pared back by just having to replace benchtops and/or cupboard fronts.  When planning a new kitchen keep a file of images to give your designer, kitchen styles are very personal and in doing this it saves lots of time.
But that aside even the most basic of kitchens can have some simple accessories added to create a sense of style and individuality, I'll show you how later.
Here are a few dreamy kitchens to make your tastebuds tingle….
One of my most favourite images.  I love the sharp contrast of black vs white.  The subtle rustic finish on the cupboards with the smooth texture of the subways and of course the lighting provides such an interesting focal point.  Studio kitchens are usually one-wall as space is minimal.
This kitchen appeals to everyone, its that mix of styles that work from rustic to industrial to vintage.  A kitchen for a cook; being a L shape it is slightly hidden away it gives a little more privacy than the open kitchens we tend to lean towards today.  Open shelving can look a little messy unless you have the time to spend keeping everything just so.
Marble and gold promote feelings of luxury, the little handles are perfect.  I'm not a fan of dark grout on white tiles as it detracts from everything else in this beautiful and feminine space, however if you want your tiling to make the statement of your kitchen dark grout away!
The contrasting textures appeal to my senses in this photo, along with the pure individuality and dare to be different attitude it conveys.  This kitchen truly says function with its layout; being a galley kitchen using drawers over cupboards allows for more storage and in combining it with some quirky art and lighting it allows the daily drudge of cooking to be a little fun.
Kitchens can be pretty; the accent colour of mint makes this kitchen feel fresh and the addition of texture through the basket lights add a homely dimension.  Open shelving above the wall cabinetry gives an interesting focal point and fills a space otherwise left empty or inaccessible.
 I love the open shelving on the underside of the bench by the bar stool area along with the white oak bench tops in this U shaped kitchen.  Remember it doesn't have to be perfect if you aren't lucky enough to have a scullery area to hide away your mixer and toaster let them reside in a corner near a plug – corners are the gem of U-shaped kitchens. 
This style of kitchen never dates from the inset cupboards to the brass knob openers to the granite top.   When you have a beautiful feature in your kitchen try to make the most of it, these amazing high windows pare beautifully with the classic style of this kitchen.  This U shaped kitchen is small but has made use of the available space giving adequate bench top area.
White, white, white kitchens should never be anything but shades of white, they look fresh and clean and never date.  This super simple little kitchen has the perfect presence from the handle-less cupboards, to the splash-back tiling, to the marble bench top and simple squared sink.  The negative detail to house the bar stools is genius – if you want simple sexy glamour this could be the kitchen for you.
Porcelain butlers sinks have a place in the country or rustic kitchen; watch your glass ware though its easy to chip on these sinks.  Team with wood bench tops and bring in other country elements like terracotta, vintage handles and a rustic style table.  Using rugs in your kitchen can allow you to add colour and texture and alleviate sore feet from standing on hard surfaces for extended periods.
A central island works  beautifully in a kitchen where space is a-plenty and you are catering to external doors.  Cupboard height is maximized even in a pitched roof situation and the use of texture is appealing.
If you have room a walk-in or butlers pantry is a great idea.  Adding a bench with power points for your kitchen tools is a must.  I love butlers pantrys with a window, though often its not possible so make good use of light, this black pantry is stunning however spending long periods in there could be daunting.
  This one-wall kitchen is transformed into a galley kitchen with the addition of this free-standing bench, which can be easily moved according to needs of the dweller.  When you can always face some bar stools towards your workspace.  I love having a guest or family member sit and talk to me while I cook.  There is such an amazing and cheap selection of stools available these days that will brighten up your space.
If you want to glam up your kitchen quickly and cheaply try these cheats, adding colour and texture can personalize your space;
Throw a calf skin or hemp rug on those out dated tiles, it will soften the area and provide a visual distraction.
Find a tray and fill it with some interesting items
Pile up some wooden and colourful boards
Have some fun with art or a light box
Add a potted herb or just a few sprigs in some bottles
Find some interesting distractions
Add a floating shelf to show off a few bits and bobs.
Change your handles or add hooks to hang interesting items or colourful tea towls.
Change your barstools
Add a feature light fitting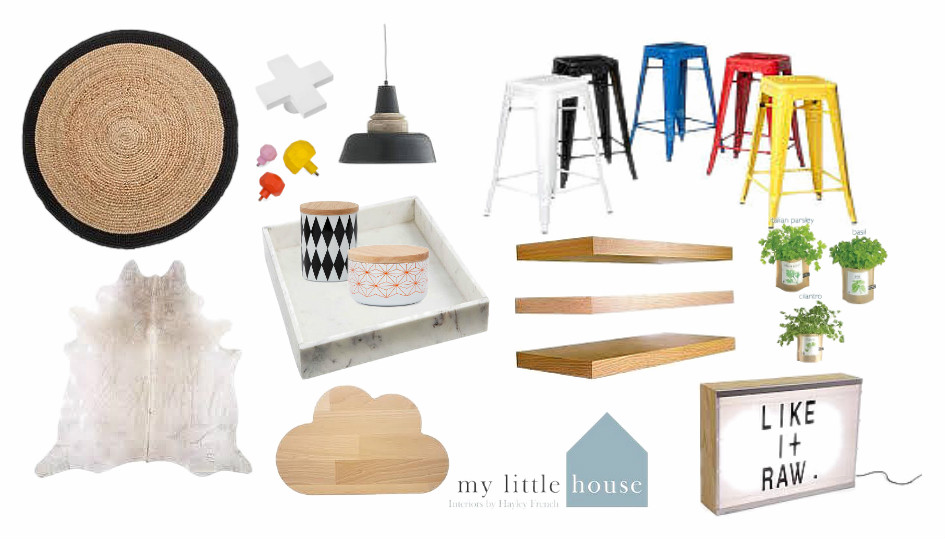 Hemp rug from Design Beat, Calf Skin from The Cowhide Company, Handles from Me and My Trend, Hook from Design Beat, Light from The Wooden Horse, Barstools from The Warehouse, Marble Tray from Surrey Park, Canisters from Me and My Trend, Board from Father Rabbit, Light box from Typo, Herbs from Palmers, Floating Shelves from The Mood Store
And there you have it; Kitchens 101, I hope you enjoyed the tour.  Take a look at some more beautiful images here and here and Bon Appetit!